Streamlight Waypoint Flashlight - Christmas Gift Idea #12
The Streamlight Waypoint is our 12th gift idea for Christmas, and makes a great gift for Fire Fighting units. The Waypoint is a pistol grip flashlight that boasts a 210 lumen beam running off four C batteries or a 12 DC power cord (included). It features a high, low and strobe mode with up to 8.5 hours of runtime in the high mode. The Streamlight Waypoint is a great gift for use on duty or off duty.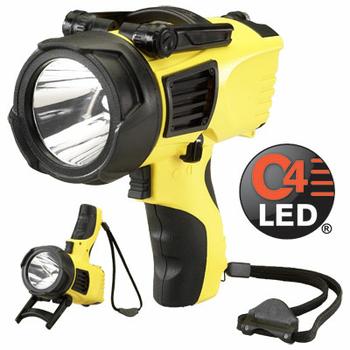 Price at On Duty Gear: $65.25
Price until 12/7/2012: $59.99
Streamlight Waypoint
The WayPoint features a pistol-grip handle and an integrated stand for precise scene lighting.
Pistol-grip spotlight features 3 modes: High, low, strobe
C4 LED Illumination Output:
High – 115,000 candela peak beam intensity/210 lumens
Low – 10,000 candela peak beam intensity/20 lumens
Runtime (using alkaline batteries):
High 8.5 hours
Low or Strobe – 120 hours
Unlimited runtime using 12V DC power cord
Powered by 4 "C" batteries (not included) or 12V DC power cord (included)
High impact polycarbonate housing
Deep-dish parabolic reflector produces a long-range targeting beam with optimum peripheral illumination
Includes lanyard
Integrated stand for scene lighting
On Duty Gears 25 Gift Ideas for Christmas
As part of our25 Gift Ideas for Christmaspromotion, we are going to be posting a new gift idea for your favorite police officer, fire fighter, EMT or military service member each day starting from Black Friday (November 23rd) through December 17th.
...
(read more)