5.11 Tactical Bail Out Bag [VIDEO]
5.11 Bail Out Bag
The 5.11 Tactical Bail Out Bag is a high end bag designed specifically for Active Shooter Response Teams, but can be used for many other tactical or patrol applications. Built with a heavy duty 1050D nylon, the Bail Out Bag is rugged, constructed well and has a capacity that dwarfs many bags its size. Using a padded neck strap, it stays close to the body while keeping all of the compartments accessible. The outside of the Bail Out Bag has three front mag pockets capable of holding 6 AR magazines, side utility pockets with web platforms, body side aero mesh padding , body side belt loop and a removable padded shoulder strap. The inside is lined with loop sided Velcro and Molle webbing for easy pouch attachments.
Bail Out Bag Features
Heavy Duty 1050D Nylon Construction
Designed for Active Shooter Response Teams
Three front pockets that can hold two AR mags each
Utility pockets on the sides with web platform
Loop sided Velcro on the bag's interior for pouch attachment
Molle webbing inside the bag for tools and pouches
Aero mesh padding on the body side of the bag
Padded shoulder strap with quick release
...
(read more)
5.11 Tactical Wingman Police Patrol Bag - Christmas Gift Idea #9
For our 9th gift idea of Christmas, we present the Wingman Police Patrol Bag by 5.11 Tactical. The Wingman is designed to fit in the passenger seat of a patrol car, but also has a shoulder strap for a comfortable carry outside the car. Featuring a compartment dividers, 2 web platforms, ID window and mesh pockets, the Wingman Patrol Bag makes an excellent gift for any Police Officer.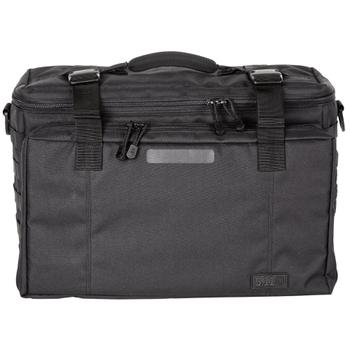 5.11 Tactical Wingman Patrol Bag
For the ultimate in portable organization, the bag functions both as a true car seat organizer with a strap that secures around the seat back and as a classic messenger bag with fold over flap and buckle closures. The fold over flap also allows you to cover the contents of the organizer when you are away from your car.
Designed to secure to the front passenger seat of a car
600 D Polyester
2 fold open web platforms w/ BBS
Organizer panel
Adjustable main compartment divider
Side mount patch
ID Window on back
Front panel embellishment
Mesh pockets for easy visibility
YKK zippers
Write bar
Duraflex hardware
Adjustable padded shoulder strap
Overall Dimensions: 18.5″ W x 13.25″ H x 7.5″ Deep
Pouches not included
Imported
On Duty Gears 25 Gift Ideas for Christmas
As part of our25 Gift Ideas for Christmaspromotion, we are going to be posting a new gift idea for your favorite police officer, fire fighter, EMT or military service member each day starting from Black Friday (November 23rd) through December 17th.
...
(read more)